You've all been a patient bunch, but finally you may relax your furious constant checking because the long awaited JET RAG POST is finally here. Can a get a
whoot whoot
?!
No? I'll give myself one.
WHOOT WHOOT!
That was awesome.
I have many reasons for why it took me so long or aka another excuse at why I'm such a lame blogger. So I did have my Sunday rendevous fitting room adventure. I changed the clothes like a model on speed and posed my butt off. It was midnight and I was running around my room, sweating like crazy but at the same time my oodles of treasures kept my spirits up. I didn't realize that I had set my camera on a really high quality setting, but I did and for a few days I was running low on disk space and that means photoshop freezing up and the computer not being the friend that it promised to be. Third excuse was that I had to combine images in photoshop and that takes quite a while. I could go on with a list of excuses, but you're probably not here looking for excuses. You want the pictures, as my KC drug dealer says to me, you want the goods right?
Okay you got the goods. Note, I'm working on revamping the blog and that means
larger
pictures! Can I get another whoot whoot?
No? Fine fine, I'll get to it now.
/////////////// THE BEFORE: a big pile of dirty smelly clothes
//////////

I spent $24 in total, but I counted and ended up with 26 items. If you do the math, that's two free items. Free?! I like free. Like a lot.

/////// ALL THE AFTERS: not a big pile anymore but still sorta smelly and dirty///////





::::: Ruffle White top::::


This top was a mighty tricky top. When I tried it on Sunday night, I swore it didnt fit. As in I couldn't get it past my mammary glands. Not one to be easily defeated I wore the top as a poofy collar over a white t-shirt. Then just yesterday, I tried the top on and low and behold, they fit. I'm so glad I did try it on again and didn't do the unthinkable of giving it to my petite sister. Those are my Charlie Brown boxers. Yes they are comfortable.


:::: Polk dot clown jumpsuit ::::


This has to be one of my favorite pieces I found because seriously, where can I find something like this? No where else. Exactly. Actually, you might see something similar at Party City during the Halloween season but is it as cool as this mighty fine piece? The answer should be no. I'll admit, it's a bit ridiculous, but ridiculous is what I'm all about. If I wore it out like it is, I'll bet I'll get a lot of people telling me the circus left a few weeks ago. That's cool, I've always wanted to be a circus performed and since I'm no good at aerobics and aerial stunts, I've always figured I'd end up being the clown. First row is as is and belted. Second row is with a black blazer. I finally realized the magic of having a black blazer, it seriously changes the mood of every outfit. And third row is worn strapless with sleeves tied in the back.



:::: Black Jumpsuit ::::


I had a lot of fun with this one as well. It just looks like a piece of black in the pictures, but there are some nice pleating details near the bodice and the neck piece is totally awesome in a 80's modern way. I can leave it down or be all ganster and pop the collar. First and second row is worn as is with collar up and down. Third row I rolled the pants for some shorts and added that handy blazer. This one deviates from my rainbow wacked out style, but I like it. Oh noes, does that mean I'm headed towards maturity?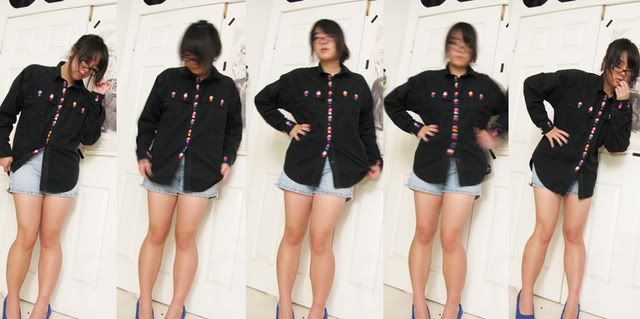 :::: Little people embroidered button up top ::::


The first thing I saw and grabbed. It has these cute little people down the middle! I'm all for cute little people. Should have taken a detailed shot. Drats. It should match well with my hairclip that also has little people on it.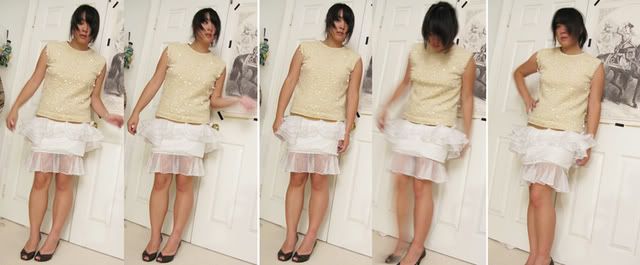 :::: Wool top with sequins/beads ::::


I got this top because somehow it reminded me of the Christopher Kane Fall collection with those gigantic round sequins. The sequins aren't as gigantic but they are round. Okay okay, it's a big leap but whatever. I added the ruffle top over my gold BCBG skirt (that was also a $1 at the buffalo exchange sale) for some strange reason.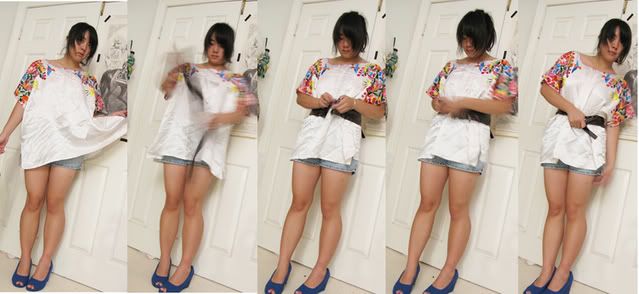 :::: Mexican satin embroidered top ::::


It's colorful and flowy and did I mention it has rainbow flowers? Worn with a belt so I don't look like a 20 year old going preggers.


:::: Another Mexican top ::::

Once again the embroidered flowers drawed me in. Worn again with a belt.


:::: Boho top ::::

I don't know why I bought it. I was sure I was over my peasant top phase back in the 9th grade but maybe I'm reminiscing about my once youthful stage in life? I hope this piece doesn't end up collecting dust in the lonely corners of my closet. The first row is the top and the second row is a coat I got thrifting last Friday. It's amazingly awesome!! It reminds me of a mix between a hippy groupie and something a little less extravagant that David Bowie would of worn as the evil goblin in Labyrinth. I bought it at this store next to the thrift store. It's this dollar store but they had all these clothes for 99 cents. I believe it is the place where thrift store clothes go to die. Luckily I rescued this coat.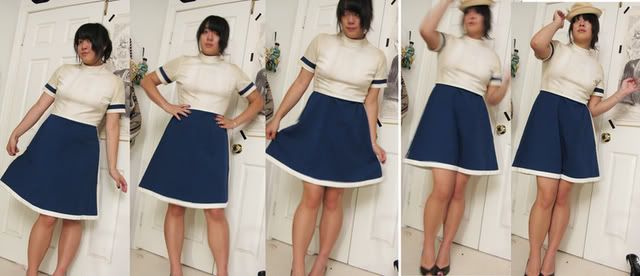 :::: Nautical dress ::::

A mix between uniform and sailor. Theres some major discoloration on the top but I think a nice paint and paint brush could fix it up in no time.


:::: Red Ralph Lauren "skinny polo" ::::

The only non-vintage-esque piece I got. I used to be all into the polo shirt again in the 9th grade but I never had a Ralph Lauren one. Now I can teleport back and fit in with the cool rich kids! Or not. I like how on the label it says "skinny polo". It makes for a great self esteem booster. Boots were also thrifted last Friday for $5.


:::: Pink Cocktail Dress :::

I think I have too many dresses. First row worn as is and second row I added this men's vest that I also got at Jet Rag. I should have tried it on because I didn't it was that big. But I guess it adds to that nonchalant mood that I am desperately trying to pull off but fail oh so miserably at.


:::: Country Bumpkin square dancing dress ::::

I look like a maid ready to go squeeze out some milk from my cows. This one might go under some reconstructive surgery but I haven't decided yet. Row one is normal. Row two I added this faux fur vest that I think is for kids because obviously it looks like a non-vest when I wear it. But I kind of like the look. It screams cavewoman going to the countryside. I feel a trend coming on.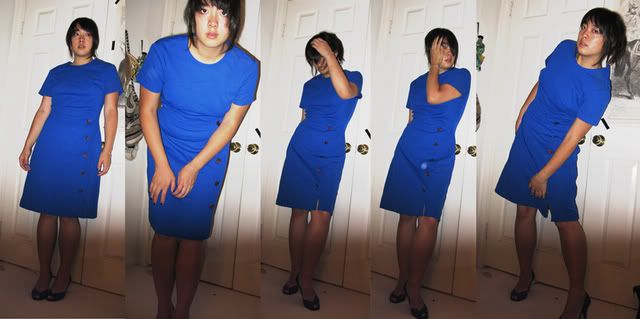 :::: Blue Mod dress with buttons ::::

Electric blue with buttons? I'm sold.




:::: Country Squaredancing sailor dress ::::

One of my favorite finds because it is super cute. And fits like a banana peel over a banana. I like to twirl in it and watch the colors spin into pink. I look like a little girl wearing it but as long as pedophiles don't follow me, it's all good.





:::: 80's floral dress ::::

I saw potential in this one like I do many pieces. It has already undergone reconstructive surgery and I must say it is recovering well. I shall post a picture soon of all my latest sewing adventures and there sure are a lot of sewing adventures.



:::: 80's lace dress ::::

When i bought this I was sure it was a super fug dress with the over the top lace and those sleeves with sequins! But when I tried it on, somehow it turned a little magical because I sort of like it as is. The sleeves are less 80's power woman and more like big flowers protecting my shoulders from the sun's UV rays. I felt like a little flapper in it, hence the red bow. Second row I added the black blazer again. Magic I say!




:::: Nerdy dress :::

A little big but the colors are just saying happy. The skirt part has a really cute lime floral pattern.
:::: Floor length floral dress ::::

I saw potential in this one as well. It has finished it's surgery and I must say looks deliciously awesome. When I bought it, it was in such great condition that I had to have it even though another part of me was telling me to gently put it back for it's whole lot of mess. Thankfully, I listened to my other side because my recon looks pretty cool.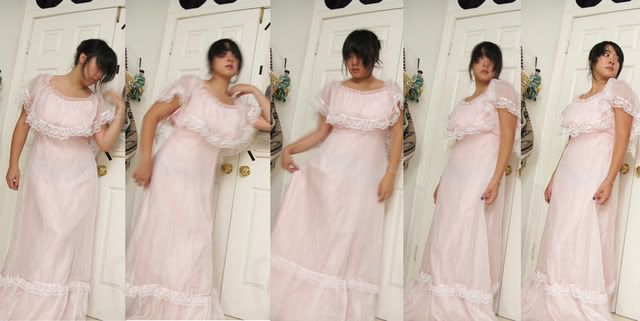 :::: Pink floor length lace dress ::::

I always grab things that have lace or sequins for some reason. Those items are just so easy to spot that I can't resist. This one has also finished it's surgery.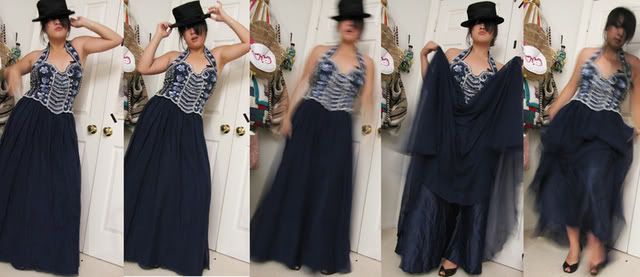 :::: Silk beaded dress ::::

It's a bit formal and over the top but it was new with tags and silk! So I scooped this baby up. The bustier part makes me feel like a burlesque dancer but the bottom makes me feel like I'm going to some fab 80's party or the high school prom.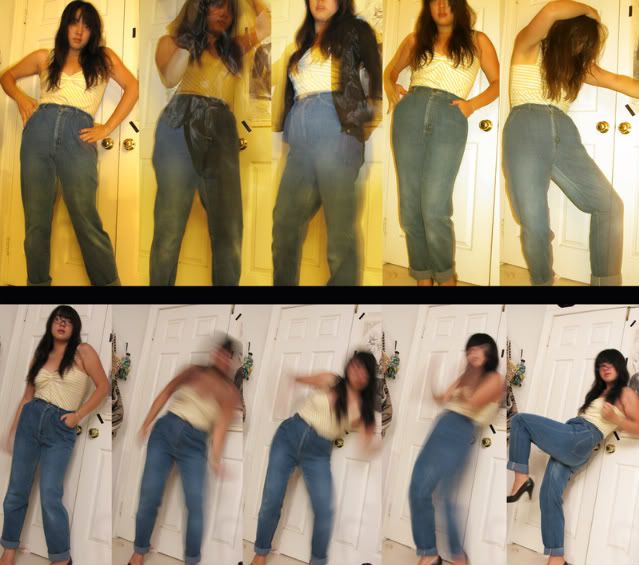 :::: Jeans ::::

Okay their high waisted. Their pleated. Their tapered. Stacey and Clinton (what not to wear) would totally have a fit over this one, but I kind of like it. It's super soft and worn in and it's great for going to a buffet.



:::: Strange hat ::::

It's quite an interesting hat or headpiece but I love it. It might look like I have a paper bag on top of my head but I swear it's not!



:::: Givenchy men's Speedo piece::::
First I would like to say, that no, I do not have a fetish for men's underwear/ swimsuits and no, I will not be wearing it anytime soon. I think I became a label whore when I bought it. But still, maybe my future husband will look smashing in that teeny tiny piece. KC was shocked by my find and asked me why?? I told her it's okay, whatever had touched it must have dried up by now. She said I should make a purse out of it to match my underwear wallet. Maybe not. There is only one piece that I could not wear because it was too small. A hot pink 80's silk dress with beads!



/////////////////////ME BY THE END OF THE NIGHT or BEGINNING OF THE MORNING //////////////////////
Super tired.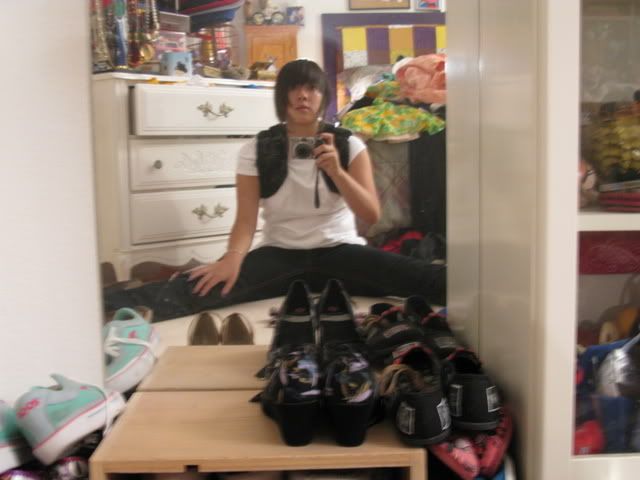 So I went a little crazy.

Busababe and I might go again next Sunday.

I'm revamping the layout and look of my blog so bare with me as things shift and change. And thanks to all those who have responded to my personal ad. I didn't know it would be that effective. I didn't know that my strange tendencies would have a match.