I took a break this weekend from studying to watch a movie. Scratch that.
I delayed my studying this weekend to watch a movie, Ang Lee's new controversial film, Lust Caution. I must say that I thought it was a very beautiful film, a little slow and lacking much action, but overall the cinematography and the score made it very beautiful - typical Ang Lee. It's a little predictable, but I still liked it. Although I didn't understand why and how the lead heroine exactly fell in love with her target enemy. Either she really enjoyed the violent sex or she saw something beneath his inhumane sadistic character.
Usually, I am what people call "white washed" or at least thats what I am in comparision to some of my very asianized friends, but hey, its all good. However, watching this movie has resparked my interest in Chinese culture and history. I'm so proud and happy that Asians are successfully gradually entering the entertainment industry and reaching a wider audience world wide. We still want to see more asian characters represented on tv though! I wish they made an Ugly Betty with an Asian flavor, now that would be so cool.
There were many firsts for me from watching this film. It was the first NC-17 rated film I've ever seen. I don't think the edited version of Showgirls played on VH1 counts. It was the first Chinese film I watched in theatres AND I am proud to say that I could understand. Most of it, I did cheat a little to look at the subtitles. It was the first time I watched explicit sex scenes without closing my eyes. I took it like a man and was mature about the situation. Man, were the actors mighty flexible. And finally, after watching the movie, I've fallen in LOVE with the 1940's style blend of eastern and western influence. I literally drooled at the goregeousness over the women's delicious hats, trench coats, red lips, t-strap heels and body hugging qi-paos. There is something so classic, so timeless, so elegant without being overtly sexy, and most of all mysterious.
I managed to find some pictures from the movie online, but trust me the film had even more oodles of goodness that these pictures can not even begin to express.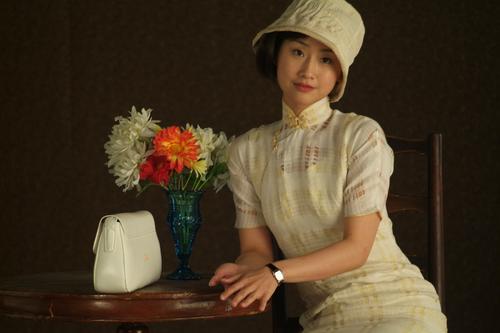 I regret not getting one of those qi paos I saw when I went to China. At the time I thought they were completely tacky and costume-y, but I want it now!
I don't quite know what's come over me. Although I do love to look at and take inspiration from different decades, this 40's refined glamour look has never really been me. Maybe I am growing up.
Nahhhhh.