I've professed my love for hats, but that love extends to the borders of all head decor as well. I love headbands, headscarves, hairclips, ribbons, barretes, flowers, and of course all things weird. So two weeks ago, during my DIY rampage, I thought "If Salvadore Dali can make a Lobster Telephone, then I certainly can make a Lobster Headband."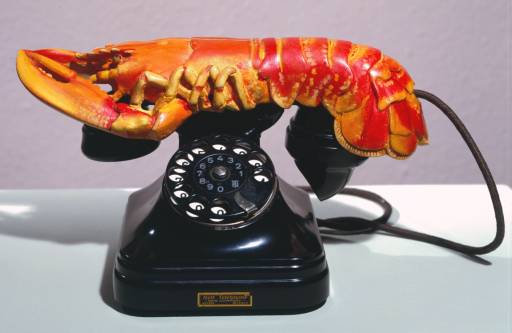 My lover's telephone. Erm, I mean Dali's telephone.
My headband.
And I did. I was not only inspired by Dali's lobster phone, but my friend has a deep obsession with these crustaceans that I stole some of her obsession for myself. Even though the lobster looks like a drawing of a five year old and looks like it was constructed by a four year old, my new headband most certainly fullfills my surrealist tendencies. And despite the fact that when I wear the lobster headband, it's pinchers look like devil horns, I cherish it dearly.
Watch out all you fashionistas, I'm the coolest, if not the kookiest, kid on the block now!
I can't wait to wear it out in public. I hope birds don't attack me because that would just ruin my day.


EDIT: I wore it out today and I got compliments (and stares). But the majority were from my friends. I hope they weren't saying all those nice things to make me feel better. Nah.. they're weird like me.