As mentioned in the past post my "no posting for three weeks" is just a false alarm. Thank goodness for the brains of my new found hero, aka my
suitemate
, because now I will have daily style photos for your enjoyment.
In honor of my new 2008 Calendar, I have used MC Escher as the background for my pictures because I'm seriously getting sick of taking pictures in the same place over and over again. I would love to take pictures in other places but I still have not gotten over the fear of having someone catch me in my self-timer action glory.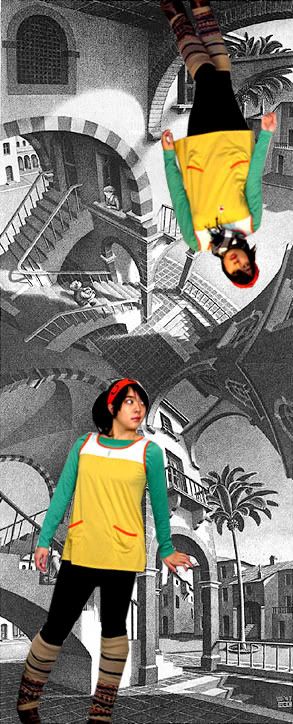 Green Long Sleeve Tee: $2

tjmaxx

, it's an

AE

shirt that says " I <3> Ski Bus" on it. I hope it's not some kind of sexual innuendo because that would just be embarrassing. It would be as bad as this one time I bought this awesome track jacket from the

mens

section from Target and wore it to school the next day only to later have my friend tell me, "

Umm

...you're wearing a communist jacket". Apparently the patch was the symbol of communism. God, I need to get with it more. I never wore that jacket to school again. I

occasionally

wear it in the comfort of my home along with my red star Chinese soldier hat and my Mao messenger bag. I'm just kidding, I'm not a little

commi

I swear! Capitalism all the way! I do actually own those two mentioned things. They were

souvenirs

I bought when i went to China.
Mellow Yellow Tunic: $3 target
Black pants
Plaid scarf: gift from a

highschool

friend for

christmas

. I wonder if she still remembers me... It would be so sad if she didn't. A big blow to my self esteem.
Tweed Jacket: so warm and comfy! The Limited, my mom didn't want it because it was too big. Thanks to my wide shoulders they look "less big".
Red headband with hearts: made by me
Necklace:

etsy

.com
Legwarmers: 0.75 st.

vinnies

. these are the first time I've worn them since I bought them. All I can say is I WANT MORE!
brown cowboy boots: $3. cowboy boots will never ever be "out" for me.
I'm so glad I'm feeling better. One thing I will miss though are the trippy dreams I get when I have a fever. I'm weird like that.
And OMG! I can't believe Heath Ledger died. It's so sad. I really started to believe in his acting skills instead of the "I'm just a good looking guy" after watching Brokeback Mountain. And now when I watch 10 Things I Hate About You on tv it won't ever be the same :(