Today, I had my last class as a freshman. It kind of makes me sad that I'm no longer a first year anymore. College won't be the "new experience" for a old, washed out...
sophomore
. It makes me kind of sad that this year went by so fast.
No, not really. Because I want summer break to start, badly. During review today I couldn't concentrate on the subject matter and instead my wandering mind drifted to the number of things I want to do this summer like sewing, starting a website, expanding my t-shirt "business", perhaps create an online vintage store as well (it would give me a good excuse to go thrifting everyday!), hanging out with friends, fashion fashion and more fashion!, shopping, and sewing. Recently, I've been searching online for a dress form. I still don't have any idea of what I want to get. I wish I were rich because then I could spend hundreds on a wonderful "me" mannequin, but alas, I am not made of benjamins. I'm debating between an adjustable dummy (haha, dummy) such as the Dritz or a Uniquely You, which is more conscious of having a better fit.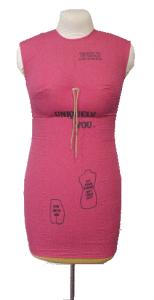 The battle for the mannequin is on! Who will win? Stay tuned to find out.